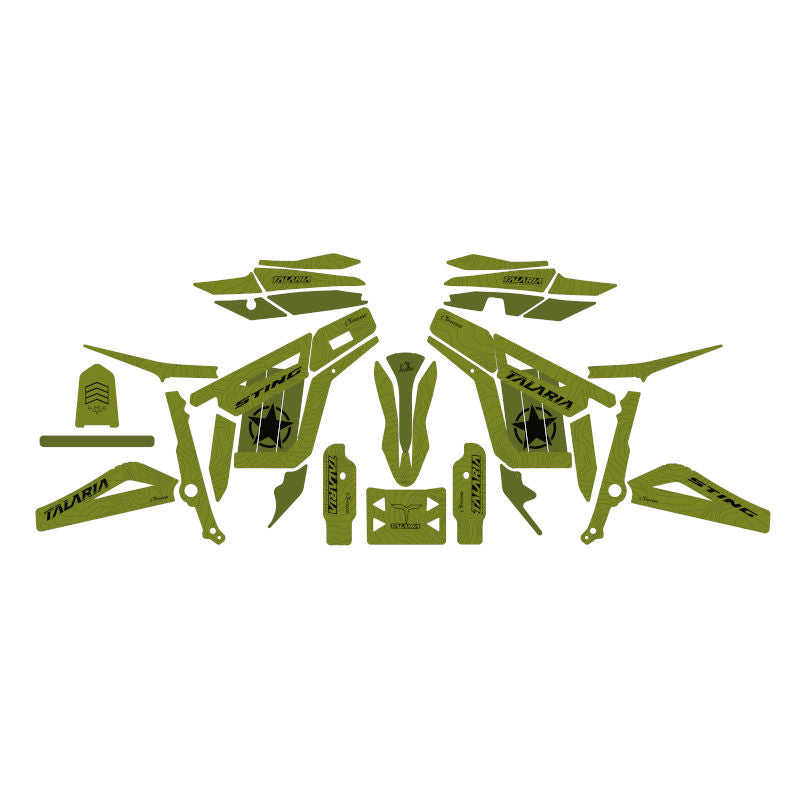 Product Code: VS-KA-AV
The Talaria Sting - Army Green - VOLAR SPORT decal kit offers an exceptional customization solution for your motorcycle, giving it a distinctive military style. Made with high-quality Crystal decals, these decals ensure durability and resistance to weather elements.
The decals are designed to fully cover your motorcycle, allowing you to easily customize it. Whether you want to apply the decals to the frame, tank, or other parts of the motorcycle, this kit provides complete coverage to create a uniform and unique look.
The Army Green color adds a touch of boldness and originality to your motorcycle, evoking a distinctive military style. With a thick texture, these decals add a three-dimensional dimension to the surface, providing additional protection against scratches and external damage.
The application of the decal kit is simple and intuitive. Before applying the decals, clean the surface thoroughly to ensure optimal adhesion. Thanks to the quality of the materials and Crystal technology, the decals maintain their brilliance over time, resisting wear and UV rays.
Customize your motorcycle with the distinctive style of the Talaria Sting - Army Green - VOLAR SPORT decal kit. Flaunt a unique and bold military look with high-quality decals that offer durability and long-lasting performance. Make your motorcycle stand out and reflect your personality with this Army Green decal kit that sets you apart from the crowd.
High-quality Crystal decals
Covers the entire motorcycle
Thick texture