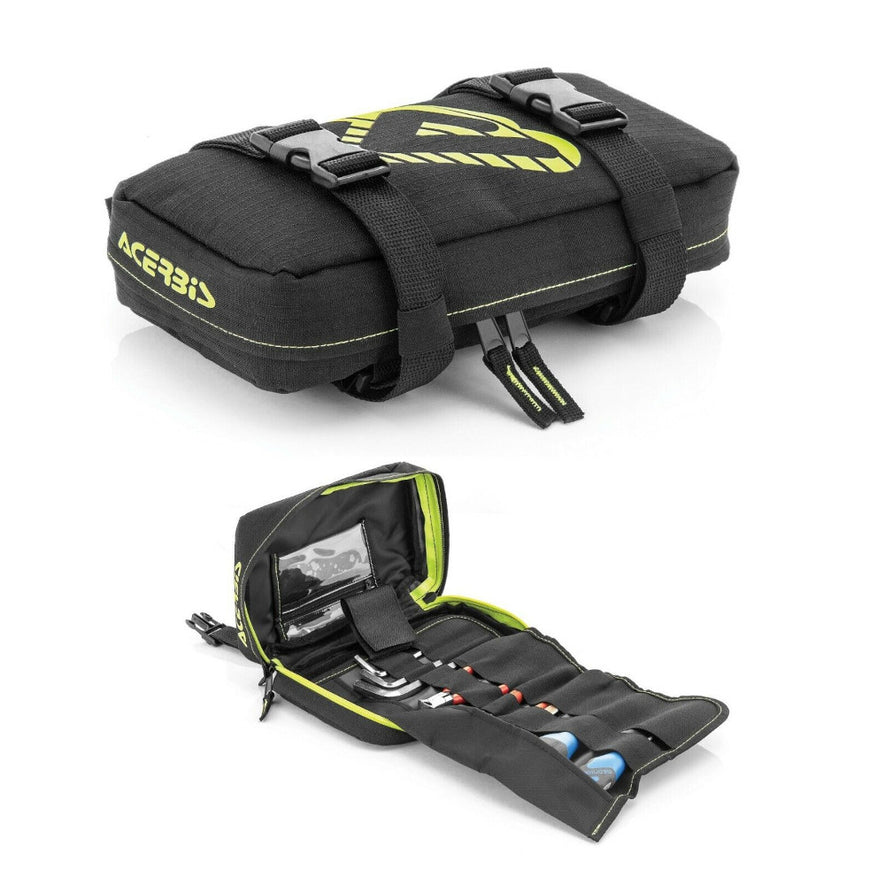 Product Code: AC-TB-BY
The Acerbis Front Tool Bag Black Yellow is the ideal solution for motorcyclists who want to have essential tools at hand during their adventures. Made with high-quality materials, this bag is resistant and durable, capable of withstanding the demands of intense use.
With a capacity of 2 liters, this bag is practical and compact, offering enough space to store the most important tools. The quick attachment to the front fender is done through four metal hooks, ensuring a secure grip without compromising stability during the ride.
The bag closes with adjustable straps, allowing you to adjust the tension according to your preferences. The rubber base provides greater grip, preventing the bag from slipping or moving during more challenging routes.
Inside the bag, you will find a large internal tool pocket, allowing you to organize the tools efficiently and access them easily when needed. Additionally, the transparent internal pocket for screwdriver bits allows you to keep track of the content without having to open the bag.
The Acerbis tool bag combines functionality and practicality in one product. Whether you are participating in an off-road race or a simple excursion, you will always have the necessary tools at hand. Get ready to experience worry-free riding with the Acerbis tool bag.

Technical Specifications:
Composition: 95% Polyester; 5% other fibers;

Capacity: 2 liters;

Practical and compact tool bag;

Quick attachment to the front fender with four metal hooks;

Closure with adjustable straps;

Rubber base for greater grip;

Large internal tool pocket;

Transparent internal pocket for screwdriver bits.