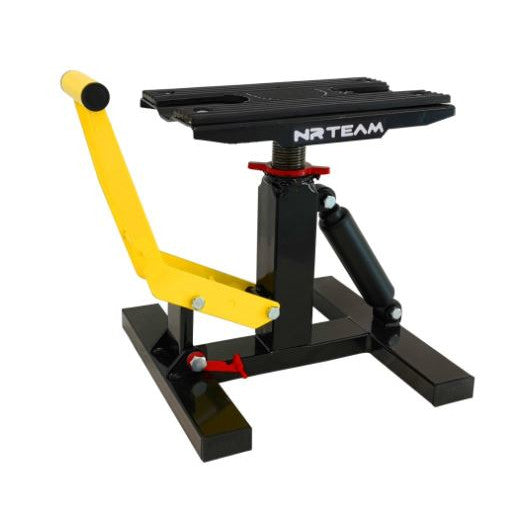 The NRTeam motorcycle stands are made of sturdy steel to ensure maximum solidity and stability. They are then subjected to a high-quality powder coating that provides them with increased resistance and superior durability over time. NRTeam has designed these stands to always offer reliability and convenience, and they are available in three different versions to meet the needs of every rider:
Standard: characterized by a linear design and a wide rubberized resting surface, this stand stands out for its simplicity, which is its main strength.
Fixed damping: the damping stand is distinguished by the hydraulic piston that slows down the lowering phase, the double-arm lever, and a locking system that prevents accidental lowering of the motorcycle.
Adjustable damping: compared to the fixed version, the adjustable damping stand offers additional improvements, such as a contoured upper platform and the ability to adjust the height, making it suitable even for mini-cross motorcycles.
The CrossPro motorcycle stands, produced in Portugal, are made with precisely cut and welded steel tubes and plates using CNC machines. The protective coating not only provides an aesthetic appearance but also protects the material from external agents, ensuring exceptional durability over time. Their innovative design, which includes a directly fixed lever without moving parts, ensures smooth operation without the need for maintenance. Furthermore, to ensure a perfect grip of the motorcycle, the stands are equipped with non-slip rubber surfaces both above and below.
The PRO version distinguishes itself from the standard version by its extraordinary strength and durability. Thanks to the use of a high-sliding Teflon bushing, the stand becomes even more resistant and convenient to use!
Product code: DS89.7111
Quantity: 1