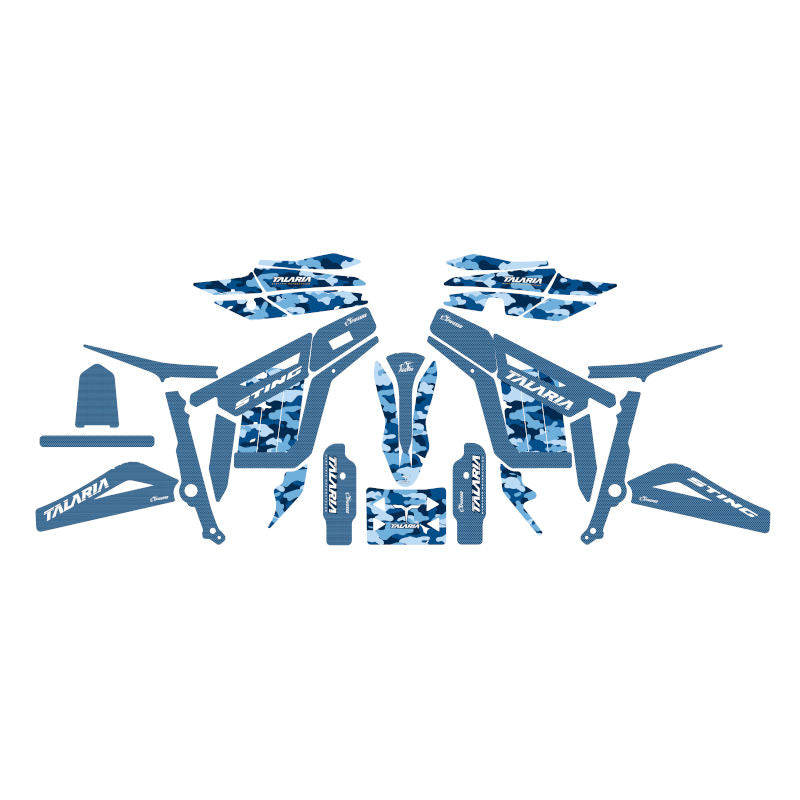 Product Code: VS-KA-MB
The Talaria Sting - Blue Camouflage sticker kit is designed for those seeking a distinctive and original look for their motorcycle. This kit, made with high-quality Crystal stickers, offers exceptional durability, weather resistance, and reliable adhesion.
The stickers in the kit cover the entire surface of your motorcycle, from the frame to the fuel tank, providing complete and uniform coverage. The blue camouflage adds a unique and eye-catching touch of style, giving your motorcycle a dynamic and modern look.
The stickers have a high thickness, adding depth and three-dimensionality to their design. This creates an engaging and distinctive visual effect that will not go unnoticed on the roads.
Applying the sticker kit is simple and intuitive. Just clean the surface of the motorcycle thoroughly, remove the stickers from their protective base, and carefully place them on the desired areas. Thanks to the quality materials and reliable adhesion, the stickers will stay securely in place, resisting daily wear and tear.
Personalize your motorcycle with the unique and eye-catching style of the Talaria Sting - Blue Camouflage sticker kit. Add a touch of personality and originality to your ride, standing out from others and making your motorcycle truly unique. With high-quality stickers and full coverage, your style will be unmistakable and ready to capture the attention of anyone who crosses your path.
High-quality Crystal stickers kit
Covers the entire motorcycle
High thickness